Club Championship 2013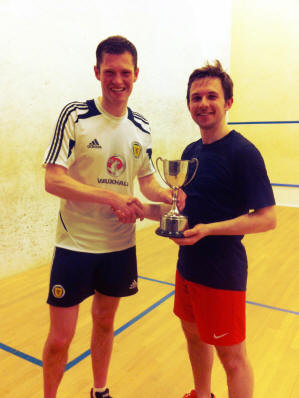 The dream is over for Jonesy as Brendan takes the title 3-0.
Club Championship 2012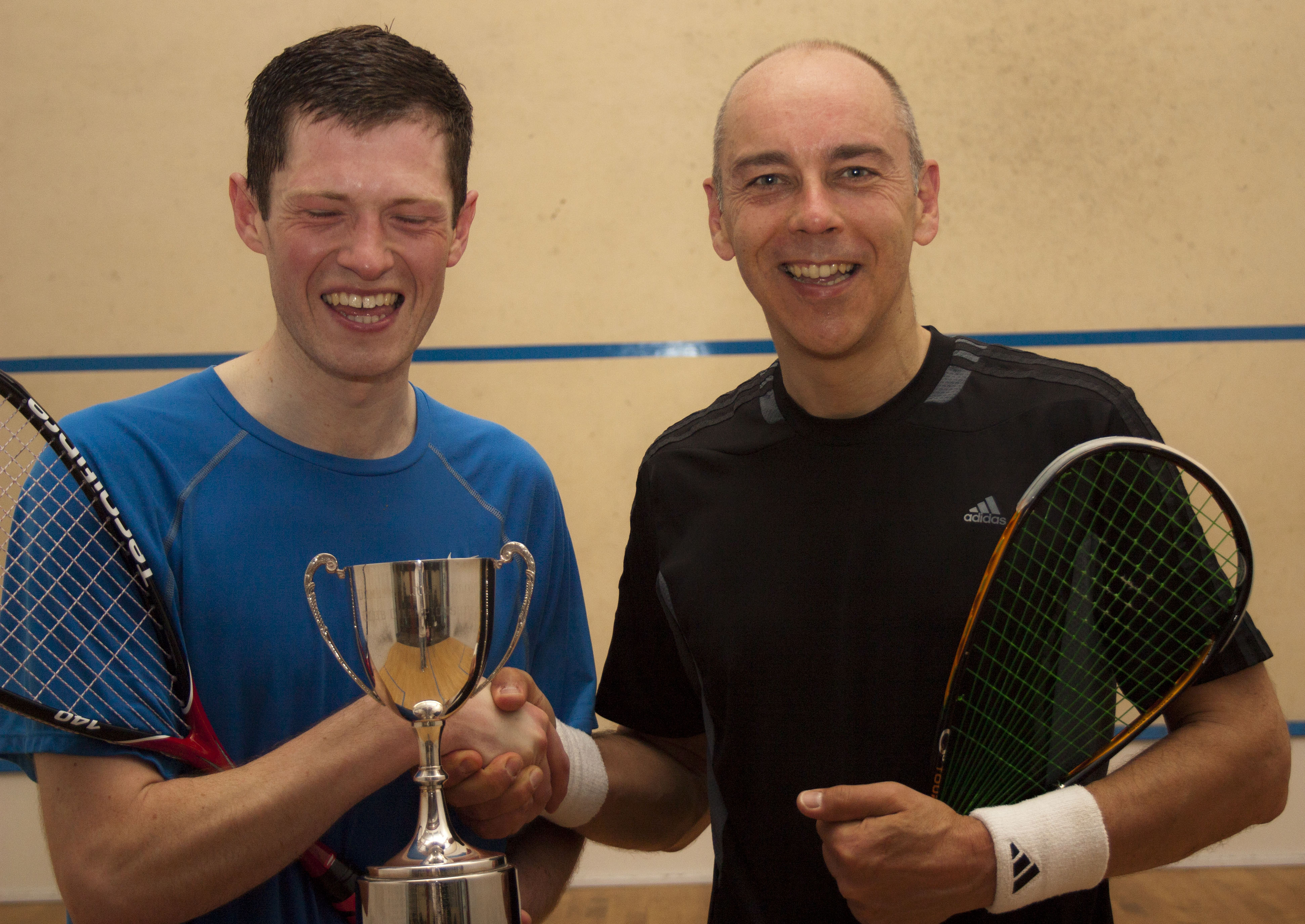 Jonesy is still dreaming!
Club Chamionship 2011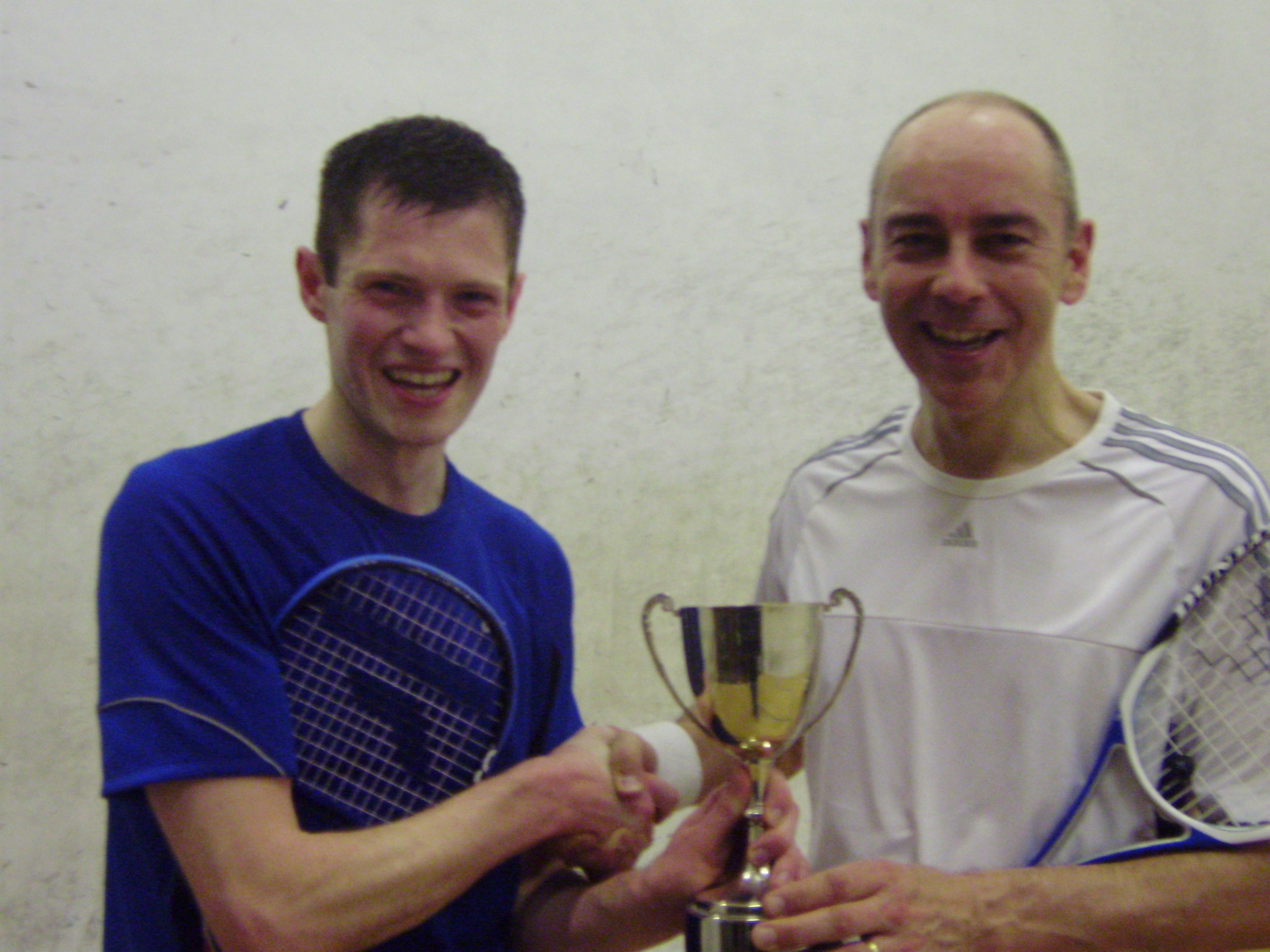 Graeme Jones dream is realised as he takes the title from Dave Legge!
Club Championship 2010
Yet another win for Dave Legge as he beats a valiant Graeme Jones in the final.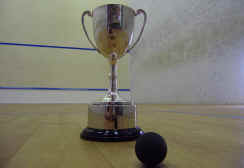 Club Championship 2009
The 2009 Club Championship Final was played at Hallhill Healthy Living Centre on Sunday 19th April in front of a surprisingly large and enthusiastic crowd.
This year's final saw two time champion David Legge take on first time finalist Evan Green. The match started at a fast tempo with an extremely long first rally that saw a high speed and high quality exchange, which proved to be a taster of things to come. The first game was hard fought with both players showing both power and finesse. Evan eventually winning it 9-7.
The second game witnessed a run of blistering winners from Dave as the exhausting first game seemed to take it's toll on Evan. Dave cruised to 9-2, levelling the match at one game all. Normal service was resumed in the third game as both players seemed to realise this was a crucial game to win. Evan raced to a 5-1 lead but was relentlessly hunted down by Dave who eventually took the game 9-7 and a two games to one lead.
The fourth game epitomises the well used phrase "well, that's squash for you". Dave raced to an 8-1 lead and the writing seemed on the wall. The engraver had his eye-piece in place and some of the crowd were probably even thinking about leaving quickly to avoid the usual chaos in the car park. Anybody who did, missed an extraordinary come-back! As if inspiration came shining through the blinds above the court, Evan steadfastly and courageously hit winner after winner to pull himself up over the precipice and go from 8-1 down to 10-8 winner in one hand. It was two games all ... remarkable!
And then the decider. The fifth game was, in the end, a tale of what had gone before. Having seen one championship point come and swiftly go in the fourth game, the reigning champion turned on the afterburners and with a devastating show of power and fitness Dave surged over the line to win the final game 9-1.
So for the third successive year David Legge is the Dunbar Squash Club Champion. Congratulations Dave!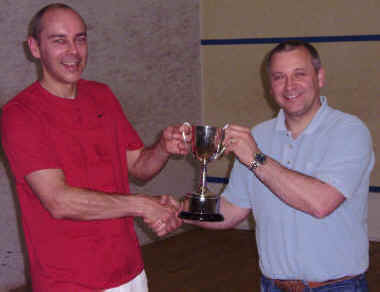 Photo: David Legge (left) receiving the Championship Trophy from final referee David Weissgerber.
Previous Club Champions
2008 David Legge
2007 David Legge
2006 Neil Johnson
2005 Neil Johnson
2004 Ruairi Revell
2003 Ewan Brown
2002 Ruairi Revell
Handicap tournament 2009
Dunbar Squash Club held its first tournament of 2009 at Hallhill Healthy Living Centre on Sunday 11th January. A good turn out of old and new faces meant some interesting clashes with the handicaps being in favour of the less experienced players.
In all 13 players competed the first round consisting of single games played with American scoring – again favouring less experienced players. Notable upsets were Julie Huggan beating Neil Black and also first year veternary student James Thornton-Smith. .
The two semi-finals saw old hand and last year's winner Phil Revell against tournament newcomer Evan Green. A close fought game finished 15-13 to Phil. The other semi-final saw Richard Baty against David Weissgerber. Much sweat & calories were expended but Richard finally triumphed via a miss hit (as usual) which David threw himself athletically to the floor in a valiant attempt to retrieve – unfortunately he didn't!
Richard then went on to toppled Phil from his throne in a hard fought final.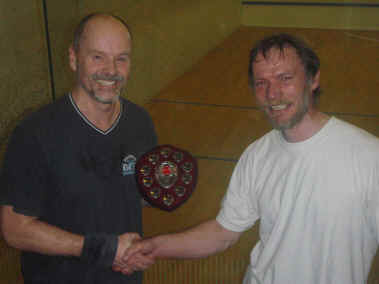 Photo: Richard Baty (left) receiving the handicap shield from Phil Revell the previous winner